Welcome to Lawyer Map™
The #1 lawyer directory with 3385 lawyers in New York and 193,624 total listings.
Tucker Evelyn T in New York, NY
Tucker Evelyn T (Immigration Services - All Law Firms) is practicing law in New York, New York. This lawyer is listed on Lawyer Map under the main category Passport & Visa Services in Immigration Services - All Law Firms.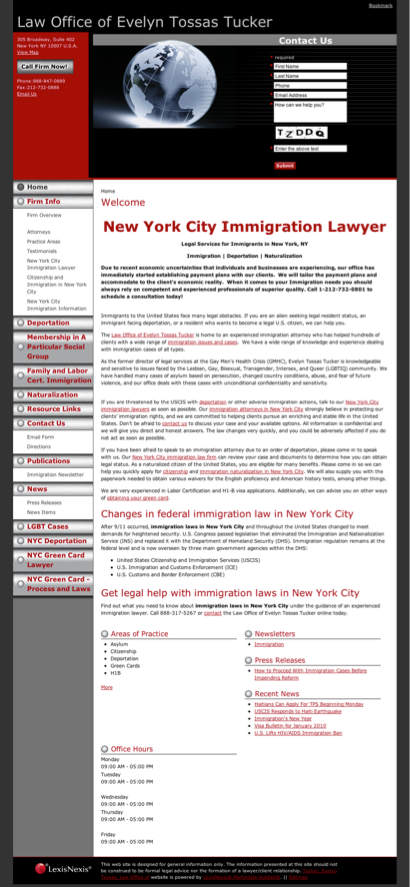 New York City immigration law attorney Evelyn Tossas Tucker has successfully helped hundreds of clients in a variety of immigration issues and cases get the legal outcome they desire.- From
http://www.tuckerimmigrationlaw.com/
You can reach us on phone number (212) 732-0801, fax number or email address . Our office is located on 305 Broadway, #402, New York, NY,
---
---
For full contact details to this lawyer have a look at the the column to your right (or scroll if you're viewing this on a mobile device.)
Fees and & free initial consultation
There's currently no information available about fees or if Tucker Evelyn T offers free initial consultation.
Qualifications
The information below about Tucker Evelyn T is optional and only visible if provided by the owner. Call (212) 732-0801 to learn more.
Bar Admissions
Certification/Specialties
Professional Associations and Memberships
Classes and Seminars
Education
1 comments, questions or reviews - Add
---
Edivania Barbosa de Souza Amorim asked a question
How can I hire your services from Brazil? I lived in USA for 11 years, came to Brazil and my Greencard was declined, how can I get a visa to work there? I have 2 american kids and I would like to have a good attorney to help me. You can contact me. ala.kachea@hotmail.com. My older son lives in NY and he´s going to pay for that. can you return my contact, please? thanks you, very much!

Written February 2014 on a Thursday (2014-02-20)
Ask a question
Update profile
Address
---
Tucker Evelyn T
305 Broadway, #402
New York, NY 10007
Contact Tucker Evelyn T to find out about hours of operation / office hours / business hours.
Office hours
---
Listed business hours are general only. Call (212) 732-0801 to learn about office hours.
Monday: 9:00 AM to 5:00 PM
Tuesday: 9:00 AM to 5:00 PM
Wednesday: 9:00 AM to 5:00 PM
Thursday: 9:00 AM to 5:00 PM
Friday: 9:00 AM to 5:00 PM
Saturday: Closed
Sunday: Closed
Phone
---
Phone: (212) 732-0801
Fax: No listed fax number.
Email address
---
No listed email address.
Lawyers nearby
---
---
New York City immigration New York City immigration lawyer New York City immigration attorney nyc legal office for immigrating into the US legal advice for immigrating into America finding legal help for immigrating into America gaining permanent residence in America becoming an American