Welcome to Lawyer Map™
The #1 lawyer directory with 3385 lawyers in New York and 193,624 total listings.
Buehler- Janet Attorney in New York, NY
Buehler- Janet Attorney (Attorneys) is practicing law in New York, New York. This lawyer is listed on Lawyer Map under the main category Lawyers - All in Attorneys.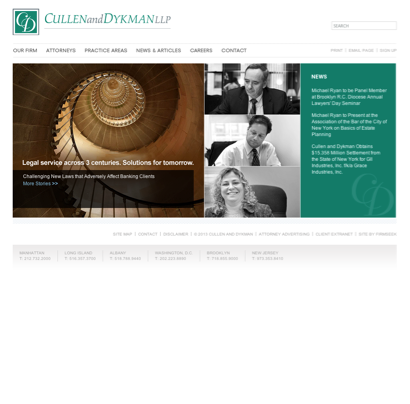 Cullen and Dykman LLP is a solution-oriented, general practice law firm, rich with tradition and history, as well as, a multi-faceted law firm whose attorneys are grouped into several broad practice areas- From
http://www.cullenanddykman.com
You can reach us on phone number (212) 732-2000, fax number (212) 571-2838 or email address jbuehler@cullenanddykman.com. Our office is located on 44 Wall St, Fl 19th, New York, NY,
---
---
For full contact details to this lawyer have a look at the the column to your right (or scroll if you're viewing this on a mobile device.)
Fees and & free initial consultation
There's currently no information available about fees or if Buehler- Janet Attorney offers free initial consultation.
Qualifications
The information below about Buehler- Janet Attorney is optional and only visible if provided by the owner. Call (212) 732-2000 to learn more.
Bar Admissions
Certification/Specialties
Professional Associations and Memberships
Classes and Seminars
Education
Ask a question
Update profile
Address
---
Buehler- Janet Attorney
44 Wall St, Fl 19th
New York, NY 10005
Contact Buehler- Janet Attorney to find out about hours of operation / office hours / business hours.
Office hours
---
Listed business hours are general only. Call (212) 732-2000 to learn about office hours.
Monday: 9:00 AM to 5:00 PM
Tuesday: 9:00 AM to 5:00 PM
Wednesday: 9:00 AM to 5:00 PM
Thursday: 9:00 AM to 5:00 PM
Friday: 9:00 AM to 5:00 PM
Saturday: Closed
Sunday: Closed
Phone
---
Phone: (212) 732-2000
Fax: (212) 571-2838
Email address
---
jbuehler@cullenanddykman.com
Lawyers nearby
---
---
attorney banking bankruptcy Brooklyn construction education employment energy foreclosure sales foreclosure listings Garden City labor lawyer law firm lending litigation Long Island municipal Real estate closing trusts and estates labor law employment law ADA NLRB FMLA PERB FLSA unions collective bargaining grievance arbitration Family and Medical Leave Act Americans with Disabilities Act Age Discrimination in Employment Act ADEA Worker Adjustment and Retraining Notification Act WARN Consolidated Omnibus Budget Reconciliation Act COBRA Fair Labor Standards Act Civil Rights Act of 1964 Title VII Immigration gross receipts tax sales tax on natural gas sales tax on electric energy commodities swap hedge derivatives commodities LIPA KeySpan natural gas cogeneration co-generation IPP alternate energy thermal energy independent power producer power sales gas sales gas purchase gas transportation gas storage special franchise