Welcome to Lawyer Map™
The #1 lawyer directory with 1496 lawyers in Denver and 193,624 total listings.
Mallgren & Ferrell in Denver, CO
Mallgren & Ferrell (Attorneys) is practicing law in Denver, Colorado. This lawyer is listed on Lawyer Map under the main category Lawyers - All in Attorneys.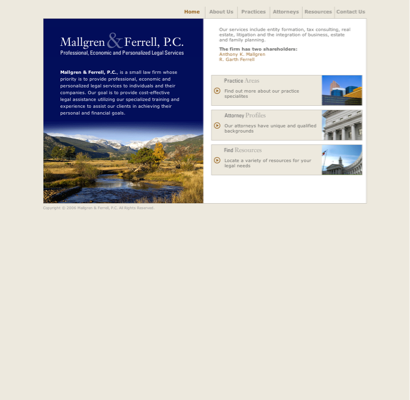 Estate Planning, Probate and Living Trusts Tony Mallgren, Anthony Mallgren, Garth Ferrell, R. Garth Ferrell, Richard Ferrell, Patrick Curnalia, Mallgren&Ferrell,P.C. – Greenwood Village, CO Estate Planning &Litigation Attorneys, Elder Law Attorneys providing Wills, Living Trusts, Probate, Trust Administration, Asset Protection, Business Legal Services, Trademarks, Copyrights, Contract Litigation, Declarations and Covenants, Construction Contracts, Contract Litigation, HOA Litigation, Patent Litigation, Trademarks Litigation, Copyright Litigation, Non-Solicitation Agreements, Non-Disclosure Agreements, Commercial Litigation, Easement Litigation, Construction Defect Litigation, Probate Litigation, Collections, Entity Formation, Family Limited Partnerships, Tax Planning, IRS Litigation and Powers of Attorney. Denver, CO, Mallgren & Ferrell, P.C.Denver, Colorado- From
http://www.mallgrenferrell.com
You can reach us on phone number (303) 341-0700, fax number or email address . Our office is located on 200 Spruce St, Denver, CO,
---
---
For full contact details to this lawyer have a look at the the column to your right (or scroll if you're viewing this on a mobile device.)
Fees and & free initial consultation
There's currently no information available about fees or if Mallgren & Ferrell offers free initial consultation.
Qualifications
The information below about Mallgren & Ferrell is optional and only visible if provided by the owner. Call (303) 341-0700 to learn more.
Bar Admissions
Certification/Specialties
Professional Associations and Memberships
Classes and Seminars
Education
1 comments, questions or reviews - Add
---
Duane Gilbert added information


I am writing in hopes of talking to an attorney in your firm who handles business transaction matter. Get back to me if you can Help.

Regards.

Duane Gilbert

Written September 2017 on a Thursday (2017-09-14)
Ask a question
Update profile
Address
---
Mallgren & Ferrell
200 Spruce St
Denver, CO 80230
Contact Mallgren & Ferrell to find out about hours of operation / office hours / business hours.
Office hours
---
Listed business hours are general only. Call (303) 341-0700 to learn about office hours.
Monday: 9:00 AM to 5:00 PM
Tuesday: 9:00 AM to 5:00 PM
Wednesday: 9:00 AM to 5:00 PM
Thursday: 9:00 AM to 5:00 PM
Friday: 9:00 AM to 5:00 PM
Saturday: Closed
Sunday: Closed
Phone
---
Phone: (303) 341-0700
Fax: No listed fax number.
Email address
---
No listed email address.
Lawyers nearby
---
---
Estate Planning Probate and Living Trusts Tony Mallgren Anthony Mallgren Garth Ferrell R. Garth Ferrell Richard Ferrell Patrick Curnalia Mallgren&Ferrell P.C. – Greenwood Village CO Estate Planning &Litigation Attorneys Elder Law Attorneys providing Wills Living Trusts Probate Trust Administration Asset Protection Business Legal Services Trademarks Copyrights Contract Litigation Declarations and Covenants Construction Contracts Contract Litigation HOA Litigation Patent Litigation Trademarks Litigation Copyright Litigation Non-Solicitation Agreements Non-Disclosure Agreements Commercial Litigation Easement Litigation Construction Defect Litigation Probate Litigation Collections Entity Formation Family Limited Partnerships Tax Planning IRS Litigation and Powers of Attorney. Denver CO Mallgren & Ferrell P.C. Denver Colorado &esrc=s&sa=u&ei=3xhcvmdybyzioashg4doaq&ved=0cdcqfjah&usg=afqjcnecrk5clqt6xkp2mcwjppmukw_jtwtony mallgren&esrc=s&sa=u&ei=ldikvcu3k8yt-qh_1bhqcq&ved=0cdeqfjah&usg=afqjcnfxgia0iyz4etiaixctgnxavvw3mwgarth ferrell attorney