Welcome to Lawyer Map™
The #1 lawyer directory with 1779 lawyers in Chicago and 193,624 total listings.
Leonard D. Litwin in Chicago, IL
Leonard D. Litwin (Accident Attorneys) is practicing law in Chicago, Illinois. This lawyer is listed on Lawyer Map under the main category Lawyers - All in Accident Attorneys.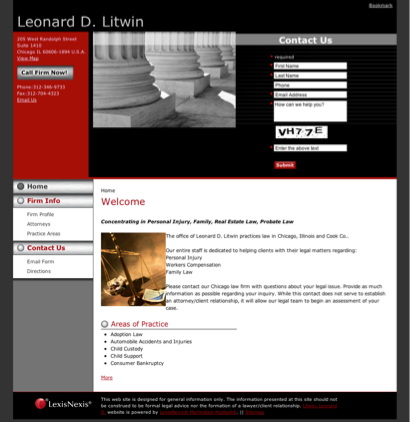 Chicago Adoption Law Attorneys of Leonard D. Litwin pursue cases of Adoption Law, Automobile Accidents and Injuries, and Child Custody in Chicago Illinois.- From
http://www.lawyers.com/ldlitwinlaw
You can reach us on phone number (312) 346-9733, fax number (312) 704-4323 or email address leonardlitwin@sbcglobal.net. Our office is located on 205 W Randolph St, Ste 1410, Chicago, IL,
---
---
For full contact details to this lawyer have a look at the the column to your right (or scroll if you're viewing this on a mobile device.)
Fees and & free initial consultation
There's currently no information available about fees or if Leonard D. Litwin offers free initial consultation.
Qualifications
The information below about Leonard D. Litwin is optional and only visible if provided by the owner. Call (312) 346-9733 to learn more.
Bar Admissions
Certification/Specialties
Professional Associations and Memberships
Classes and Seminars
Education
1 comments, questions or reviews - Add
---
Howard Alan wrote something
I made a mistake & sent you an unfinished note about a letter from a Lawyer from Madrid. I will send you a copy.
Written November 2016 on a Monday (2016-11-28)
Ask a question
Update profile
Address
---
Leonard D. Litwin
205 W Randolph St, Ste 1410
Chicago, IL 60606
Contact Leonard D. Litwin to find out about hours of operation / office hours / business hours.
Office hours
---
Listed business hours are general only. Call (312) 346-9733 to learn about office hours.
Monday: 9:00 AM to 5:00 PM
Tuesday: 9:00 AM to 5:00 PM
Wednesday: 9:00 AM to 5:00 PM
Thursday: 9:00 AM to 5:00 PM
Friday: 9:00 AM to 5:00 PM
Saturday: Closed
Sunday: Closed
Phone
---
Phone: (312) 346-9733
Fax: (312) 704-4323
Email address
---
leonardlitwin@sbcglobal.net
Lawyers nearby
---
---
Chicago Adoption Law attorneys Leonard D. Litwin Chicago Illinois Adoption Law Automobile Accidents and Injuries and Child Custody lawyers in Chicago IL droid-app://com.google.android.googlequicksearchbox&esrc=s&sa=u&ved=0ahukewjijivqz9jlahwbfcykhxnzdbwqww4iojag&usg=afqjcnhqcvnp-5ijun10sbnnvupfpwaq6wleonard litwin attorney chicagoleonard litwin chicago