Welcome to Lawyer Map™
The #1 lawyer directory with 215 lawyers in Tallahassee and 193,624 total listings.
Herron- Mark Attorney in Tallahassee, FL
Herron- Mark Attorney (Election Law Attorneys) is practicing law in Tallahassee, Florida. This lawyer is listed on Lawyer Map under the main category Lawyers - All in Election Law Attorneys.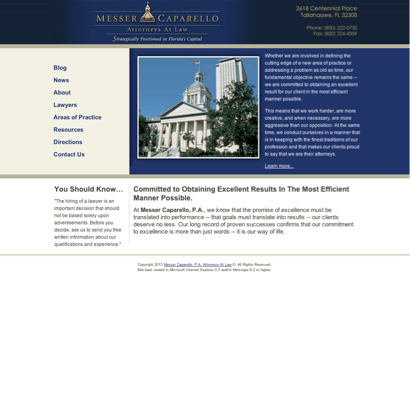 Messer & Caparello. Tallahassee attorneys practicing Administrative Law, Civil & Commercial Litigation, Environmental, Regulation Legislative, Governmental Affairs, Mediation, Arbitration, Commercial Transactions, Utilities & Technology.- From
http://www.lawfla.com
You can reach us on phone number (850) 222-0720, fax number (850) 224-4359 or email address mherron@lawfla.com. Our office is located on 215 S Monroe St, #701, Tallahassee, FL,
---
---
For full contact details to this lawyer have a look at the the column to your right (or scroll if you're viewing this on a mobile device.)
Fees and & free initial consultation
There's currently no information available about fees or if Herron- Mark Attorney offers free initial consultation.
Qualifications
The information below about Herron- Mark Attorney is optional and only visible if provided by the owner. Call (850) 222-0720 to learn more.
Bar Admissions
Certification/Specialties
Professional Associations and Memberships
Classes and Seminars
Education
Ask a question
Update profile
Address
---
Herron- Mark Attorney
215 S Monroe St, #701
Tallahassee, FL 32301
Contact Herron- Mark Attorney to find out about hours of operation / office hours / business hours.
Office hours
---
Listed business hours are general only. Call (850) 222-0720 to learn about office hours.
Monday: 9:00 AM to 5:00 PM
Tuesday: 9:00 AM to 5:00 PM
Wednesday: 9:00 AM to 5:00 PM
Thursday: 9:00 AM to 5:00 PM
Friday: 9:00 AM to 5:00 PM
Saturday: Closed
Sunday: Closed
Phone
---
Phone: (850) 222-0720
Fax: (850) 224-4359
Email address
---
mherron@lawfla.com
Lawyers nearby
---
---
Messer Caparello Messer & Caparello P.A. Elliott Messer Dom Caparello attorneys consultant Administrative Law Administrative Litigation Civil Litigation Commercial Litigation Environmental Financial Institutions Regulation Legislative Governmental Affairs Mediation Arbitration Real Estate Transactions Commercial Transactions State Taxation Local Taxation Utilities Technology White Collar Class Actions Constitutional Law Contract and Construction Disputes Criminal Litigation Employment Law False Claims Act Litigation Insurance Defense Personal Injury Wrongful Death Professional Negligence Malpractice RICO Unfair Trade Practices Tax Litigation Personal Income Tax Federal Corporate Tallahassee lawyer law firm attorney Florida FL full-service legal organization judicial administrative public policy