Home

»

Greenbaum- Matt Attorney
Welcome to Lawyer Map™
The #1 lawyer directory with 1005 lawyers in New Orleans and 193,624 total listings.
Greenbaum- Matt Attorney in New Orleans, LA
Greenbaum- Matt Attorney (Disability Law Attorneys) is practicing law in New Orleans, Louisiana. This lawyer is listed on Lawyer Map under the main category Lawyers - All in Disability Law Attorneys.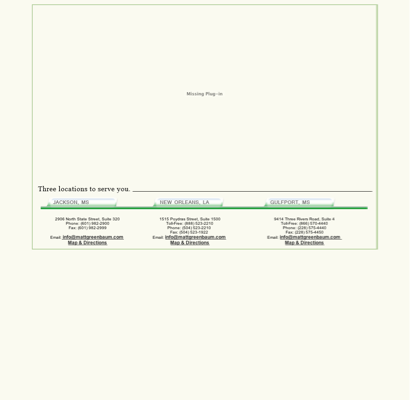 Denied Social Security Disability benefits? Disabled and need to file for benefits? Looking for an attorney to represent you in your Social Security disability claim? The Law Offices of Matt Greenbaum can help, Jackson, MS - New Orleans, LA - Gulfport, MS.- From
http://www.mattgreenbaum.com
You can reach us on phone number (504) 523-2210, fax number (504) 523-1922 or email address matt@mattgreenbaum.com. Our office is located on 1515 Poydras St, #1500, New Orleans, LA,
---
---
For full contact details to this lawyer have a look at the the column to your right (or scroll if you're viewing this on a mobile device.)
Fees and & free initial consultation
There's currently no information available about fees or if Greenbaum- Matt Attorney offers free initial consultation.
Qualifications
The information below about Greenbaum- Matt Attorney is optional and only visible if provided by the owner. Call (504) 523-2210 to learn more.
Bar Admissions
Certification/Specialties
Professional Associations and Memberships
Classes and Seminars
Education
4 comments, questions or reviews - Add
---
ned graci asked a question
Hi Mr. Green Baum
I just received my rejection from Social Security Administration.
I first emailed you a year ago and you instructed me to get back to you if I was rejected.
Sir I have many things physically wrong with me. Would you please take a look at my Oschner
medical records. I am financially in serious trouble with less than $1600 and in fear of having to sell my home. I have no other assets and having real difficulty find a job I can physically do.
Thank You,
Ned Graci
504 734-5749 home
710-7201 track phone
Written April 2015 on a Tuesday (2015-04-28)
Agnes Dominique wrote something
I am already on social security disability. I am a widow. I was taken when I was going to ask to stay with a relative for a short time. I wanted to try to get more social security since my doctor thought I had MS before the diagnosis. He seemed surprised I was on disability. I think I should qualify for getting my deceased husband's Social Security.
Written October 2015 on a Saturday (2015-10-10)
Heidi asked a question
I am disability by having a brain n spine surgery from having walking anemonia I was told at first I had then told I may had menegitis that turned out to be Mercia I was in the hospital had a couple of surgery's and was kept for fifty two days in a wheel chair had to learn to use my neck n back all over again to be able to stand and walk.there fore I have not been able to work I'm widow my husband was on ssi at fourtythree passed away and I have a son with no father now and not any help other then snap benefits.please help me I need a great attorney I can afford.
Written January 2017 on a Friday (2017-01-13)
Juanita holmes asked a question
I have several chronic conditions that prevent me from working hand I want to apply for assistance but don't know how can you help me
Written June 2015 on a Monday (2015-06-08)
Ask a question
Update profile
Address
---
Greenbaum- Matt Attorney
1515 Poydras St, #1500
New Orleans, LA 70112
Contact Greenbaum- Matt Attorney to find out about hours of operation / office hours / business hours.
Office hours
---
Listed business hours are general only. Call (504) 523-2210 to learn about office hours.
Monday: 9:00 AM to 5:00 PM
Tuesday: 9:00 AM to 5:00 PM
Wednesday: 9:00 AM to 5:00 PM
Thursday: 9:00 AM to 5:00 PM
Friday: 9:00 AM to 5:00 PM
Saturday: Closed
Sunday: Closed
Phone
---
Phone: (504) 523-2210
Fax: (504) 523-1922
Email address
---
matt@mattgreenbaum.com
Lawyers nearby
---
---
social security disability ssi ssd attorney lawyer supplemental security income disability benefits claim advocates ssdi claim for benefits Social Security claims for disability Social Security and Disability Lawyers gulf coast gulfport jackson mississippi assistance new orleans baton rouge Disability law firm texas ss representation attorney matt greenbaumgreenbaughm,mattmatt greenbaum attorney new orleansattorney mike matt greenbaumgoogle.com matt greenbaum in baton rouge. latexas disability lawyersmatt greenbaummike greenbaum new orleans