Home

»

Deakle-Couch Law Firm
Welcome to Lawyer Map™
The #1 lawyer directory with 85 lawyers in Hattiesburg and 193,624 total listings.
Deakle-Couch Law Firm in Hattiesburg, MS
Deakle-Couch Law Firm (Attorneys) is practicing law in Hattiesburg, Mississippi. This lawyer is listed on Lawyer Map under the main category Lawyers - All in Attorneys.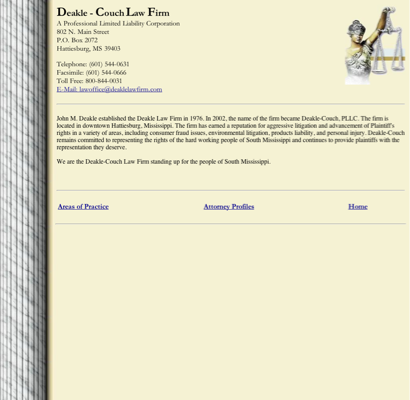 The Deakle-Couch Law Firm in Hattiesburg, Mississippi is a personal injury law firm that stands up for the rights of the people of South Mississippi- From
http://www.deaklelawfirm.com
You can reach us on phone number (601) 544-0631, fax number or email address . Our office is located on 802 N Main St, Hattiesburg, MS,
---
---
For full contact details to this lawyer have a look at the the column to your right (or scroll if you're viewing this on a mobile device.)
Fees and & free initial consultation
There's currently no information available about fees or if Deakle-Couch Law Firm offers free initial consultation.
Qualifications
The information below about Deakle-Couch Law Firm is optional and only visible if provided by the owner. Call (601) 544-0631 to learn more.
Bar Admissions
Certification/Specialties
Professional Associations and Memberships
Classes and Seminars
Education
7 comments, questions or reviews - Add
---
Sandy posted a comment
Asbestos in sc. how is the benefit of asbestos handled from heir to heir? For example, when a child dies does it revert to their children automatically or is it divided between all living children until all have passed them divided between the grandchildren.
Written January 2018 on a Tuesday (2018-01-09)
Stephen H. Culp asked a question
I am the executor of the estate of Cecil L. Culp - Dec. We are part of the class action law suit for asbestos for Mr. Culp. Recently received a letter regarding making a decision on how to proceed with a secondary law firm that negotiates settlements with Medicare recovery. My question is there has been no activity in months with any class settlements , is this class action case completed as far as Cecil L. Culp ? Are there other case(s) still in the pipeline at this time?
Written April 2017 on a Tuesday (2017-04-25)
Sandra Holman asked a question
I was referred to your firm by a friend that has used your services. Are you representing others about the Roundup lawsuit?
Written August 2017 on a Wednesday (2017-08-09)
Hugh Mixon asked a question
John Deakle, did you have dinner at L.T.'s in Purvis on 11/04/2016? My wife says it was you we saw and I disagreed. I believe I would still recognize you after all these years.

Hughmixon@att.net
Written November 2016 on a Saturday (2016-11-05)
Rickey Matherson asked a question
My family in Alabama worked for Avondale Textiles for years I worked some time for them as well. Before changing my career to Plywood manufacturing. You company helped them with a class action lawsuit on asbestos, thought I might qualify.
Written December 2017 on a Saturday (2017-12-30)
Debra Gordon posted a comment
My husband Nathaniel Gordon died on 5/8/16. I sent you a copy of his certified death certificate along with a letter explaining I was returning a check to be issued to me. The letter was dated 12/27/16 and I still have not received a response. I have now received another award letter and will be returning it notarized with my signature only. Please call me at 706-561-7659. Thanks
Written March 2017 on a Friday (2017-03-17)
Rhonda White wrote something
On behalf of my mother Barbara M Kent passed away on
03/05/2016 of lung cancer I ,Rhonda White appointed by her in her will as her legal Adminstrator and will pursue the case on her behalf and the suffering she endured during her lifetime - work history is
B&FGoodrich Mills / Thomaston Mill / William Carter Company .
I am by law her legal Adminstrator over her estate and will be sending all paperwork showing such.
As she ( Babara M Kent ) lived in our home over 18 years suffering from asbestos symptoms in many areas of her body ,all medical papers show this to be true .
I can be contacted at 706 975-0121 Thank you in advance Rhonda White
Written November 2016 on a Monday (2016-11-28)
Ask a question
Update profile
Address
---
Deakle-Couch Law Firm
802 N Main St
Hattiesburg, MS 39401
Contact Deakle-Couch Law Firm to find out about hours of operation / office hours / business hours.
Office hours
---
Listed business hours are general only. Call (601) 544-0631 to learn about office hours.
Monday: 9:00 AM to 5:00 PM
Tuesday: 9:00 AM to 5:00 PM
Wednesday: 9:00 AM to 5:00 PM
Thursday: 9:00 AM to 5:00 PM
Friday: 9:00 AM to 5:00 PM
Saturday: Closed
Sunday: Closed
Phone
---
Phone: (601) 544-0631
Fax: No listed fax number.
Email address
---
No listed email address.
Lawyers nearby
---
---
lawyer attorney law firm legal law litigation Hattiesburg MS Mississippi Personal Injury Consumer Fraud Products Liability Asbestos Deakle Couch Deakle-Couch Deakle Couch Law Firm John Deakle Bob Couch Nursing Home accident medical malpractice defective products auto accident automobile accident accident droid-app://com.google.android.googlequicksearchboxbob couch hattiesburg, msasbestos associates hattiesburg msmississippi asbestos attorney diekle601-544-0631 emailasbestos associates hattiesburg mississippi deakle law firmjohn deakle law firm medical malpractice lawsuits&esrc=s&sa=u&ei=wtzuvp6umihxoas6y4dwag&ved=0cbqqfjaa&usg=afqjcne4eddibv6iblaq_w86sp6mwmcu1w