Welcome to Lawyer Map™
The #1 lawyer directory with 1779 lawyers in Chicago and 193,624 total listings.
Cabrini Green Legal Aid Clinic in Chicago, IL
Cabrini Green Legal Aid Clinic (Attorneys) is practicing law in Chicago, Illinois. This lawyer is listed on Lawyer Map under the main category Lawyers - All in Attorneys.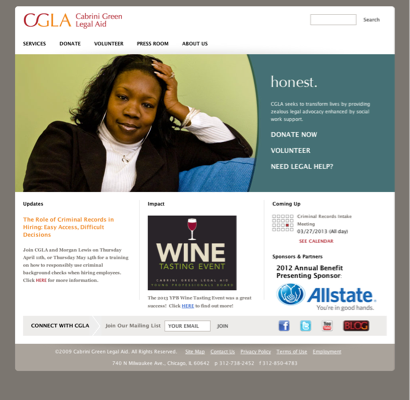 Cabrini Green Legal Aid provides free legal services to low-income residents of Chicago. We integrate social work into our services to extend our impact beyond the legal crisis. CGLA focuses on four areas of law: housing, family, and criminal defense.- From
http://www.cgla.net
You can reach us on phone number (312) 266-1345, fax number or email address . Our office is located on 206 W Division St, Chicago, IL,
---
---
For full contact details to this lawyer have a look at the the column to your right (or scroll if you're viewing this on a mobile device.)
Fees and & free initial consultation
There's currently no information available about fees or if Cabrini Green Legal Aid Clinic offers free initial consultation.
Qualifications
The information below about Cabrini Green Legal Aid Clinic is optional and only visible if provided by the owner. Call (312) 266-1345 to learn more.
Bar Admissions
Certification/Specialties
Professional Associations and Memberships
Classes and Seminars
Education
1 comments, questions or reviews - Add
---
jerome whire asked a question

This letter Sent: Sunday, July 19, 2015 6:36 AM, To: Michael Grady;,original attorney of record for DeKalb County Public Defenders and now a Cook County Public Defender: fairly explains the in-justice of the procedural system even without the abnormalities of the;......THREE TRIPS ?.....the ISSUE BOND FORFEITURE..... and the ISSUE
of HEALTH and DISABILITY: which remains an issue today.


Letter to former Dekalb County Public Defended; Michael Grady
From: Jerome C. White ( a Dekalb case )

I am hoping for a review of this request for relief assistance in the form of a sentencing hearing or
an appeal from a $500 fine and 300 hours community service for driving on a 1989 revolted Illinois
drivers license in the state of Illinois; although I have had a Minnesota drivers license since 1995.

While skipping some abnormalities; this request is based on the fact that after three trips to Dekalb, Il., (a total of three thousand miles), on my first actual appearance: I was told by the public defender, Tiffany Lynch that the court prosecutor said it was too late to introduce any evidence.

I should also state that returning home I was placed on bed-rest the following eight weeks; having been
ill during the entire trip. The court date was actually postponed one week because of this.

I am 67 years old semi-retired and under medical care for Gout, Sciatica, COPD and Depression:
among other things. I have a Loan officer and Paralegal background form a St Cloud University program and am desperately trying to find a logical way to comply with this order for 300 hours of community service..and complete my physical and ( Mn Dept. of Vocational Rehabilitation).

Although I have / had a Minnesota drivers license I was arrested for driving in Illinois on a
1984 Illinois revocation that should have been addressed when I received a Minnesota license
and when I completed the Drivers Diversion program 11-09-2009.

I have some mobility limitations and usually work from home as a certified acquisitions officer with
Freedom Lending and deal facilitator with a real estate partner network; while studying to re-instate
my mortgage license. I previously used my vehicle for my business and medical appointments.

No Minnesota organization will help with Ill. I am reaching out to you because 3 days before court I
called your office and got her: she said she intended to call after she got caught up but did nothing to present my evidence or argument to the court. Although I had introduced SOME information to you ( verbally or fax),
before my appearance, no-one acknowledged anything prior.

Please reply, please advise.

j.curtiss White
IntegratedService.LLC
1085 Montreal ave. 1006
St Paul, Mn 55116
jcurtisswhite@yahoo.com
651 202 0030

Written July 2015 on a Wednesday (2015-07-22)
Ask a question
Update profile
Address
---
Cabrini Green Legal Aid Clinic
206 W Division St
Chicago, IL 60610
Contact Cabrini Green Legal Aid Clinic to find out about hours of operation / office hours / business hours.
Office hours
---
Listed business hours are general only. Call (312) 266-1345 to learn about office hours.
Monday: 9:00 AM to 5:00 PM
Tuesday: 9:00 AM to 5:00 PM
Wednesday: 9:00 AM to 5:00 PM
Thursday: 9:00 AM to 5:00 PM
Friday: 9:00 AM to 5:00 PM
Saturday: Closed
Sunday: Closed
Phone
---
Phone: (312) 266-1345
Fax: No listed fax number.
Email address
---
No listed email address.
Lawyers nearby
---
---
Cabrini Green Legal Aid Clinic Chicago CGLA pro bono lawyer attorney volunteer law school family eviction criminal defense expungement help desk sealing clemency employment social work nonprofit free legal services droid-app://com.google.android.googlequicksearchboxis cabrini legal aid is still located on 206 w division