Home

»

Bucacci & Simonian
Welcome to Lawyer Map™
The #1 lawyer directory with 136 lawyers in Fall River and 193,624 total listings.
Bucacci & Simonian in Fall River, MA
Bucacci & Simonian (Bankruptcy Lawyers - All Law Firms) is practicing law in Fall River, Massachusetts. This lawyer is listed on Lawyer Map under the main category Bankruptcy Services in Bankruptcy Lawyers - All Law Firms.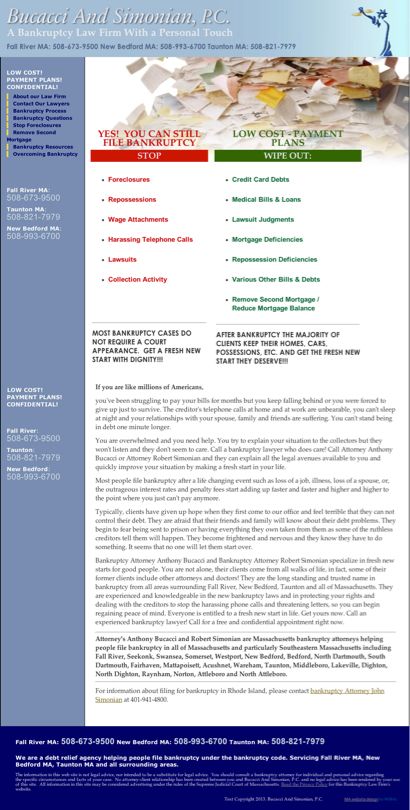 Massachusetts bankruptcy lawyer helps in filing for Bankruptcy protection in Massachusetts. Attorneys in Fall River, New Bedford and Taunton MA- From
http://www.massbklaw.com/
You can reach us on phone number (508) 673-9500, fax number or email address . Our office is located on N Main St, Fall River, MA,
---
---
For full contact details to this lawyer have a look at the the column to your right (or scroll if you're viewing this on a mobile device.)
Fees and & free initial consultation
free consultation and payment plans
Qualifications
The information below about Bucacci & Simonian is optional and only visible if provided by the owner. Call (508) 673-9500 to learn more.
Bar Admissions
Certification/Specialties
Professional Associations and Memberships
Classes and Seminars
Education
2 comments, questions or reviews - Add
---
Brett posted a comment
They really live up to their reputation and give lawyers a good mame.
Written July 2016 on a Sunday (2016-07-24)
Arthur posted a comment
Very professional and trustworthy attorneys. Took care of my case without any problems and answered all of my questions before, during and after the case. Took a big financial load off my back and really helped me a lot.
Written December 2017 on a Friday (2017-12-15)
Ask a question
Update profile
Address
---
Bucacci & Simonian
N Main St
Fall River, MA 02720
Contact Bucacci & Simonian to find out about hours of operation / office hours / business hours.
Office hours
---
Monday to Friday 8:00 to 7:00
Phone
---
Phone: (508) 673-9500
Fax: No listed fax number.
Email address
---
No listed email address.
Lawyers nearby
---
---
chapter 13 7 lawyer attorney bankruptcy stop forclosure massachusetts mortgage help fall river ma lower mortgage payment new bedford mortgage attorney massachusets fall river new bedford taunton massachusetts chapter 7 fall river ma lawye chapter 13 foreclosure stop fall river lawyer new bedford attorney bankruptcy massachusetts fall river new bedford bankrupcy bankrupcy bankrupsy bankrupcy bankrupcies fall river taunton lawyer attorney acushnet westport rehoboth wareham seekonk swansea seekonk westport seekonk massachusetts bankruptcy bankrupcy massachusets new bedford fall river ma mass banrubsies bankrupcies bankrubtcy bankrupce atorney atornies lawer droid-app://com.google.android.googlequicksearchboxfall river ma bankruptcy lawyer