Welcome to Lawyer Map™
The #1 lawyer directory with 10 lawyers in Boone and 193,624 total listings.
Block H & R in Boone, IA
Block H & R (Tax Attorneys) is practicing law in Boone, Iowa. This lawyer is listed on Lawyer Map under the main category Lawyers - All in Tax Attorneys.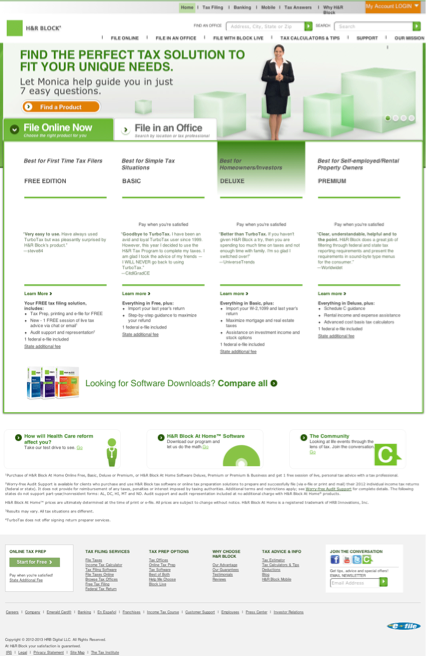 H&R Block
®
is your single source for tax preparation and online tax services. File income taxes online or using our great tax preparation software to e-file taxes. Enjoy hassle free tax filing with the help of tax professionals.- From
http://www.hrblock.com
You can reach us on phone number (515) 432-8743, fax number or email address . Our office is located on 814 Story St, Boone, IA,
---
---
For full contact details to this lawyer have a look at the the column to your right (or scroll if you're viewing this on a mobile device.)
Fees and & free initial consultation
There's currently no information available about fees or if Block H & R offers free initial consultation.
Qualifications
The information below about Block H & R is optional and only visible if provided by the owner. Call (515) 432-8743 to learn more.
Bar Admissions
Certification/Specialties
Professional Associations and Memberships
Classes and Seminars
Education
Ask a question
Update profile
Address
---
Block H & R
814 Story St
Boone, IA 50036
Contact Block H & R to find out about hours of operation / office hours / business hours.
Office hours
---
Listed business hours are general only. Call (515) 432-8743 to learn about office hours.
Monday: 9:00 AM to 5:00 PM
Tuesday: 9:00 AM to 5:00 PM
Wednesday: 9:00 AM to 5:00 PM
Thursday: 9:00 AM to 5:00 PM
Friday: 9:00 AM to 5:00 PM
Saturday: Closed
Sunday: Closed
Phone
---
Phone: (515) 432-8743
Fax: No listed fax number.
Email address
---
No listed email address.
Lawyers nearby
---
---
h r block taxes Deprecated: mysql_connect(): The mysql extension is deprecated and will be removed in the future: use mysqli or PDO instead in /storage/content/29/143129/lawyer-map.com/public_html/opendb.php on line 9 droid-app://com.google.android.googlequicksearchbox