Welcome to Lawyer Map™
The #1 lawyer directory with 1779 lawyers in Chicago and 193,624 total listings.
Anderson Kill & Olick in Chicago, IL
Anderson Kill & Olick (Bankruptcy Attorneys) is practicing law in Chicago, Illinois. This lawyer is listed on Lawyer Map under the main category Lawyers - All in Bankruptcy Attorneys.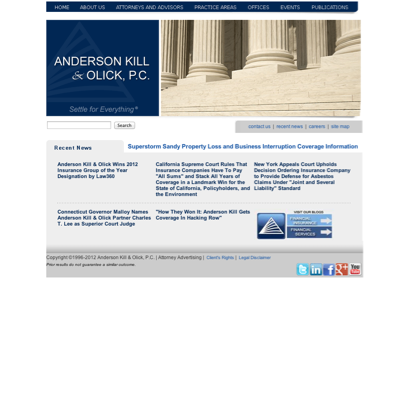 Anderson Kill & Olick, P.C. practices law in the areas of Insurance Recovery, Anti-Counterfeiting, Antitrust, Bankruptcy, Commercial Litigation, Corporate & Securities, Employment & Labor Law, Real Estate & Construction, Tax, and Trusts & Estates. Best-known for its work in insurance recovery, the firm represents policyholders only in insurance coverage disputes, with no ties to insurance companies and no conflicts of interest. Clients include Fortune 1000 companies, small and medium-sized businesses, governmental entities, and nonprofits as well as personal estates. Based in New York City, the firm also has offices in Newark, NJ, Philadelphia, PA, Ventura, CA, Washington, DC and Greenwich, CT. For companies seeking to do business internationally, Anderson Kill, through its membership in Interleges, a consortium of similar law firms in some 20 countries, assures the same high quality of service throughout the world that it provides itself here in the United States.- From
http://www.andersonkill.com
You can reach us on phone number (847) 925-5430, fax number (312) 201-8548 or email address ako@andersonkill.com. Our office is located on 230 W Monroe St, #2540, Chicago, IL,
---
---
For full contact details to this lawyer have a look at the the column to your right (or scroll if you're viewing this on a mobile device.)
Fees and & free initial consultation
There's currently no information available about fees or if Anderson Kill & Olick offers free initial consultation.
Qualifications
The information below about Anderson Kill & Olick is optional and only visible if provided by the owner. Call (847) 925-5430 to learn more.
Bar Admissions
Certification/Specialties
Professional Associations and Memberships
Classes and Seminars
Education
Ask a question
Update profile
Address
---
Anderson Kill & Olick
230 W Monroe St, #2540
Chicago, IL 60606
Contact Anderson Kill & Olick to find out about hours of operation / office hours / business hours.
Office hours
---
Listed business hours are general only. Call (847) 925-5430 to learn about office hours.
Monday: 9:00 AM to 5:00 PM
Tuesday: 9:00 AM to 5:00 PM
Wednesday: 9:00 AM to 5:00 PM
Thursday: 9:00 AM to 5:00 PM
Friday: 9:00 AM to 5:00 PM
Saturday: Closed
Sunday: Closed
Phone
---
Phone: (847) 925-5430
Fax: (312) 201-8548
Email address
---
ako@andersonkill.com
Lawyers nearby
---
---