Home

»

Acchions- Nicole Attorney
Welcome to Lawyer Map™
The #1 lawyer directory with 1376 lawyers in Philadelphia and 193,624 total listings.
Acchions- Nicole Attorney in Philadelphia, PA
Acchions- Nicole Attorney (Corporate Business) is practicing law in Philadelphia, Pennsylvania. This lawyer is listed on Lawyer Map under the main category Lawyers - All in Corporate Business.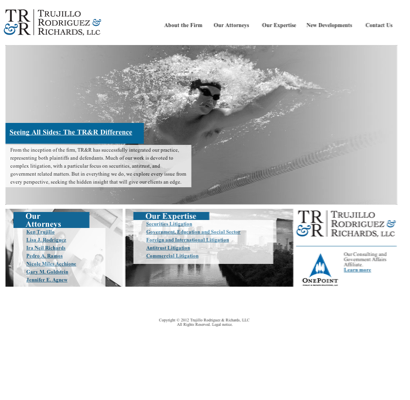 You can reach us on phone number (215) 731-9004, fax number (215) 731-9044 or email address nicolem@trrlaw.com. Our office is located on 226 W Rittenhouse Sq, Philadelphia, PA,
---
---
For full contact details to this lawyer have a look at the the column to your right (or scroll if you're viewing this on a mobile device.)
Fees and & free initial consultation
There's currently no information available about fees or if Acchions- Nicole Attorney offers free initial consultation.
Qualifications
The information below about Acchions- Nicole Attorney is optional and only visible if provided by the owner. Call (215) 731-9004 to learn more.
Bar Admissions
Certification/Specialties
Professional Associations and Memberships
Classes and Seminars
Education
1 comments, questions or reviews - Add
---
TOM YUNGMO posted a comment
We have communicate with one of our customer in your state regards merging, we like to merge with the company to increased revenue, market share, and cross-selling opportunities.
We would like to retain you to review proposed transactions for acquisitions or purchase of businesses and creation of contracts for acquisition (merger), if you are interested, Please advice us on your initial retainer fee and we shall forward you the company information and letter of intent.
Yours Sincerely,

Mr. Tom Yungmo Chung
Ray Electronics Industries Ltd.
15/F., Ray Centre,88
Hung To Road, Kwun Tong,
Kowloon, Hong Kong
852-234-9684
enquiriesrayelect@gmail.com
Written September 2017 on a Wednesday (2017-09-06)
Ask a question
Update profile
Address
---
Acchions- Nicole Attorney
226 W Rittenhouse Sq
Philadelphia, PA 19103
Contact Acchions- Nicole Attorney to find out about hours of operation / office hours / business hours.
Office hours
---
Listed business hours are general only. Call (215) 731-9004 to learn about office hours.
Monday: 9:00 AM to 5:00 PM
Tuesday: 9:00 AM to 5:00 PM
Wednesday: 9:00 AM to 5:00 PM
Thursday: 9:00 AM to 5:00 PM
Friday: 9:00 AM to 5:00 PM
Saturday: Closed
Sunday: Closed
Phone
---
Phone: (215) 731-9004
Fax: (215) 731-9044
Email address
---
nicolem@trrlaw.com
Lawyers nearby
---
---