Welcome to Lawyer Map™
The #1 lawyer directory with 1691 lawyers in Dallas and 193,624 total listings.
Ferrer- Poirot & Wansbrough in Dallas, TX
Ferrer- Poirot & Wansbrough (Personal Injury Attorneys) is practicing law in Dallas, Texas. This lawyer is listed on Lawyer Map under the main category Lawyers - All in Personal Injury Attorneys.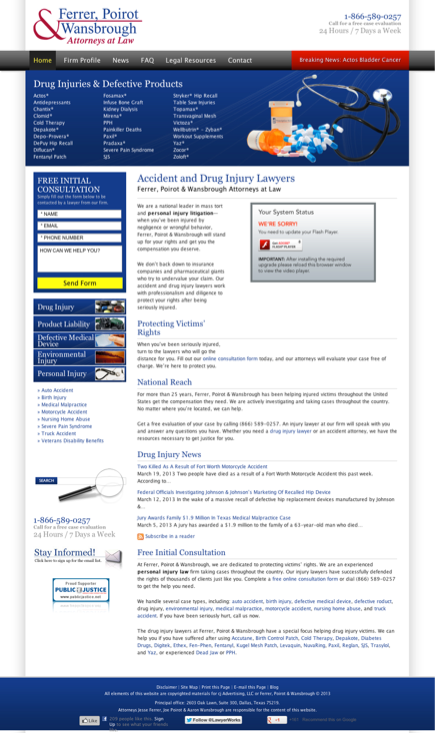 If you have been injured or suffered side effects from prescription drugs, contact a drug injury lawyer at Ferrer, Poirot, and Wansbrough at 1.866.589.0257.- From
http://www.lawyerworks.com
You can reach us on phone number (214) 521-4412, fax number (214) 526-6026 or email address cynthia@lawyerworks.com. Our office is located on 2603 Oak Lawn Ave, Dallas, TX,
---
---
For full contact details to this lawyer have a look at the the column to your right (or scroll if you're viewing this on a mobile device.)
Fees and & free initial consultation
There's currently no information available about fees or if Ferrer- Poirot & Wansbrough offers free initial consultation.
Qualifications
The information below about Ferrer- Poirot & Wansbrough is optional and only visible if provided by the owner. Call (214) 521-4412 to learn more.
Bar Admissions
Certification/Specialties
Professional Associations and Memberships
Classes and Seminars
Education
1 comments, questions or reviews - Add
---
Carolyn Sue Bean asked a question
I am following up to a phone call I received from your office 01-23-18 concerning an "old drug claim" I was given ref. Amiodarone Medication & complications from taking this med. June 2017 I contacted Robert Bonsignore,Esq, Trial Lawyer , cell ( 781) 856-7650 per a search for a lawyer who handled class action suits. He informed me on 01-04-18 " he couldn't help me;look for someone else if possible". I made a written reques t01-06-18 for release from our Rentention and Fee Agreement & have not gotten any reply. Beginning in 2016 I secured ALL the medical records pertaining to my claim. My life changed for the worst after taking Amiodarone . I have not been able to work for 2 years at either profession I enjoyed, R N & Realtor. Can you please help me? PLEASE. Thank you for your time & Consideration.
Written January 2018 on a Friday (2018-01-26)
Ask a question
Update profile
Address
---
Ferrer- Poirot & Wansbrough
2603 Oak Lawn Ave
Dallas, TX 75219
Contact Ferrer- Poirot & Wansbrough to find out about hours of operation / office hours / business hours.
Office hours
---
Listed business hours are general only. Call (214) 521-4412 to learn about office hours.
Monday: 9:00 AM to 5:00 PM
Tuesday: 9:00 AM to 5:00 PM
Wednesday: 9:00 AM to 5:00 PM
Thursday: 9:00 AM to 5:00 PM
Friday: 9:00 AM to 5:00 PM
Saturday: Closed
Sunday: Closed
Phone
---
Phone: (214) 521-4412
Fax: (214) 526-6026
Email address
---
cynthia@lawyerworks.com
Lawyers nearby
---
---
lawyer in texas ferrer
who is calling from 214-521-4412
droid-app://com.google.android.googlequicksearchbox
ferrer poirot & wansbrough fax
ferrer poirot wansbrough drug injury lawyers
tp://google.com