Welcome to Lawyer Map™
The #1 lawyer directory with 3385 lawyers in New York and 193,624 total listings.
Bruce S. Schaeffer in New York, NY
Bruce S. Schaeffer (Corporate Business) is practicing law in New York, New York. This lawyer is listed on Lawyer Map under the main category Lawyers - All in Corporate Business.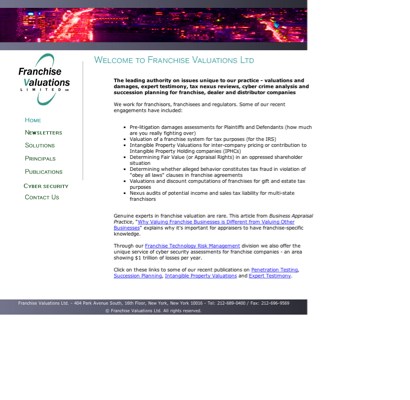 Franchise Valuations Ltd. provides fair market valuations for franchised businesses. Such appraisals are used for buyers and sellers, lenders, estate planners and to provide expert testimony in franchise, divorce and partnership litigation.- From
http://www.franchisevaluations.com
You can reach us on phone number (212) 689-0400, fax number (212) 689-0489 or email address bschaef123@aol.com. Our office is located on 404 Park Ave S, New York, NY,
---
---
For full contact details to this lawyer have a look at the the column to your right (or scroll if you're viewing this on a mobile device.)
Fees and & free initial consultation
There's currently no information available about fees or if Bruce S. Schaeffer offers free initial consultation.
Qualifications
The information below about Bruce S. Schaeffer is optional and only visible if provided by the owner. Call (212) 689-0400 to learn more.
Bar Admissions
Certification/Specialties
Professional Associations and Memberships
Classes and Seminars
Education
Ask a question
Update profile
Address
---
Bruce S. Schaeffer
404 Park Ave S
New York, NY 10016
Contact Bruce S. Schaeffer to find out about hours of operation / office hours / business hours.
Office hours
---
Listed business hours are general only. Call (212) 689-0400 to learn about office hours.
Monday: 9:00 AM to 5:00 PM
Tuesday: 9:00 AM to 5:00 PM
Wednesday: 9:00 AM to 5:00 PM
Thursday: 9:00 AM to 5:00 PM
Friday: 9:00 AM to 5:00 PM
Saturday: Closed
Sunday: Closed
Phone
---
Phone: (212) 689-0400
Fax: (212) 689-0489
Email address
---
bschaef123@aol.com
Lawyers nearby
---
---
Franchise franchisee franchisor franchising franchised Valuation value valuing Fair market value Appraisal appraise appraiser Estate planning Buy-sell Loan lend lender Bank banking Purchase purchaser Sale seller Expert testimony Expert witness Testimony testify Litigation litigate litigator Tax taxation Succession Lawyer law legal Accounting accountant CPA Small businesses